3 Dental Habits That Will Save You A Lot of Money and Discomfort
Posted Dec 01, 2015
Habit 1 is obvious:  brush at least 2 times a day, preferably with a fluoride toothpaste.  Some say brush after every meal.  I don't even do that.  If you can brush after breakfast and before bed, that would make most dentists and hygienists happy.
Habit 2 is also pretty obvious but is done way, way less then Habit 1.  That's flossing.  At least 80% of what I fix is decay between teeth.  Maybe more.  Nobody really likes to floss.  It's much more tedious than brushing.  But it pays much larger dividends to floss.  Not only do most cavities start between teeth, most gum disease starts between teeth as well.  It would be nice to floss twice a day just like brushing.  The more the better.  But if you can at least floss every day before bed, that'll go a long way to improving your dental health.
Brushing and flossing protect you from bacterial and chemical attacks to your teeth and gums.  But your mouth can also be under attack from excessive mechanical/chewing forces.  That's where Habit 3 comes in:  wearing an occlusal guard.  Call it a night guard, grinding guard, occlusal guard, clenching guard, mouthpiece if you want but they are all similar and usually look like this:
Not all patients need Habit 3 but I'm going to say the number that do are now in the majority.  I'm not sure if we're more stressed today or perhaps we're better at detecting the signs and symptoms that require an occlusal guard.  Let's look at some teeth that would benefit from a guard:
Do your teeth look like these?  This patient grinds their teeth.  Unless they are going in there and using an emory board or metal file, there is no way teeth get flat like that from normal chewing, especially in a younger patient.  Something else is going on here.  And if it's not caught early, you can end up looking like this: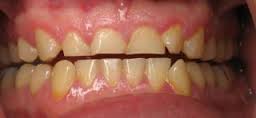 When it gets to this stage, it's the cost of a Cadillac to fix.  All the teeth need to be crowned to regain the height they once were.
An occlusal guard protects not only the grinders but the clenchers.  Clenching is harder to detect.  There is minimal tooth wear.  But you may be having vague pain that is not traced to a cavity or broken tooth.  Another telltale sign is losing gum tissue and tooth material right at the gum line: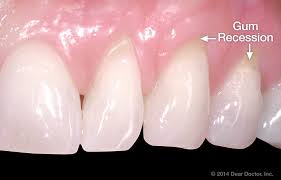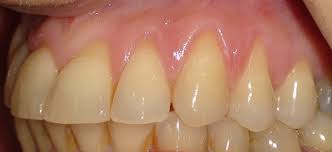 When you clench your teeth, your teeth flex.  Teeth are like marble and they are not designed to flex.  Marble chips.  So do teeth.  Also, the body doesn't like this force and pulls the gum and bone tissue away.  That's bad because gum and bone are the only things holding your teeth in your mouth.  Trying to regain gum and bone requires expensive surgery to fix.
In summary:  brush, floss and put your guard in when you go to bed (or during the day if you catch yourself grinding or clenching).  Your mouth and wallet will thank you.
(all photos obtained via Google Image search)